Why Bethel?
The education system fits God's appointed plan.
How?
"True education has to do with the whole ...it is the harmonious development of the physical, the mental, and the spiritual powers" (Education p13)
Here at Bethel we focus at the development of the head, heart and hand.
Head: we offer a variety of subjects which are proper to equip a student to be enrolled in any institution of higher learning.
Heart: There is integration of faith and learning, bible lessons at all levels, chapel talks every Friday, reading of God's at assembly every Monday, midweek prayers on Wednesdays and Sabbath services from Friday sunset to Saturday sunset.
Hand: The school has a vast farm with different farming activities which include poultry, dairy and vegetable garden. Learners are practically involved in all the spheres and equipped to be useful with their hands.
Not only is a child prepared to leave Bethel with a matric certificate but with a lot of skills which would fit one to be a useful citizen wherever one may find himself/ herself to be.
Bethel is the place to be. Together we win.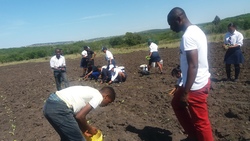 As evil passions and purposes of men banished God from their thoughts, so forgetfulness of Him inclined them more strongly to evil. The heart in love with sin clothed Him with its own attributes, and his conception strengthened the power of sin. Bent on self-pleasing, men came to regard God as an equal to them….such is the state of the world today.
There was but one hope for the human race- that into this mass of discordant and corrupting elements might be cast a new leaven; that there might be brought to mankind the power of a new life; that the knowledge of God might be restored to the world…..
...back to articles.